Posted by Roadware on 6th Jul 2020
Recycling At Point Of Use.
2020 has been a tough year so far, but that hasn't stopped the UK from continuing to work towards its 2020 recycling targets. Although recycling at home has a significant impact on the amount of recyclable waste that ends up in landfill, it's essential that people recycle at work, and in public areas too if we want to make real progress towards the UK's current 50% recycling goal. Dedicated recycling litter bins with waste stream management labels have been proven to encourage people to recycle at point of use.
What waste streams are available for recycling?
Recycling at point of use couldn't be easier thanks to the creation of simple, easy to understand colour coded aperture waste streams. Some of the most common waste streams used by businesses at point of use include:
●General waste
For items that do not fit into the below recycling streams and cannot be recycled.
●Dry mixed & single stream recycling
Accepting cans, plastic bottles, packaging wrap and now, black plastic!
●Cardboard and paper recycling
Accepting cardboard, envelopes, newspapers, magazines, standard paper (including confidential), and glossy paper.
●Glass recycling
Accepting brown, green, and white bottles in all shapes and sizes.
●Food waste recycling
For all uneaten food-waste including plate scrapings, tea bags and coffee grounds.
Aside from helping the environment and being an essential part of your corporate social responsibility, here are just three ways that installing dedicated recycling litter bins with these waste stream management labels could help your business.
---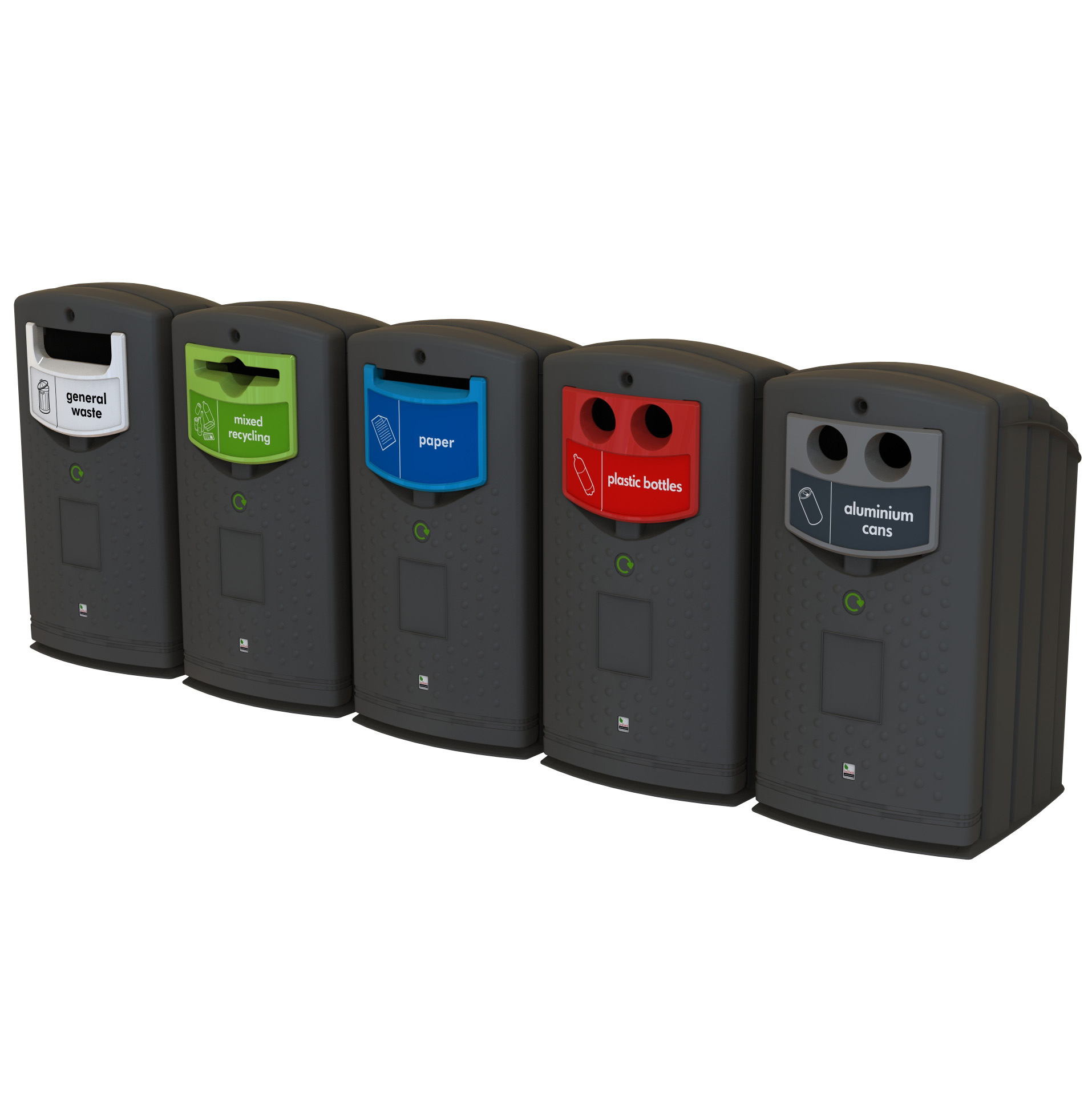 Image source: Roadware Ltd
1.Showing a commitment to recycling is good for business PR
With so much focus on the environment and the UK's current recycling efforts, failing to demonstrate a sound recycling policy can be detrimental to the reputation of your business. Social media, smartphones and the internet have made it easier than ever for consumers to complain if they are not able to recycle when they want to, so it is essential that you provide adequate recycling facilities at key points of use. Conversely, providing clearly labelled dedicated waste recycling points can bring you positive media attention, especially when shared by your customers and visitors on social media.
2.Recycling at point of use reduces littering
Sadly, if consumers are unable to see a prominent place to dispose of their waste, then they are more likely to litter, dirtying your site. Providing dedicated waste recycling at your point of use makes it clear that there are litter disposal options available, reducing the chance of litter ending up on the floor. Overflowing general waste bags are another common reason why litter ends up on-site. Rather than having all rubbish thrown into one general waste bin, providing separate recycling bins that are clearly marked with waste stream management labels encourages consumers to spread their rubbish out so that no one bag ends up overflowing, and with black plastic now recyclable too, there should be even less rubbish ending up in general waste.
3.Providing recycling facilities will help to educate future generations
Whether it be at school, in their local park or at a shopping centre, children learn by watching the actions of those around them. We may be teaching the importance of recycling at school, but if we do not provide children with the recycling facilities they need when they are out and about, then they are not able to follow through. Clearly labelled recycling facilities at point of use in parks, shopping centres and at school, not only enable children to recycle easily but help to make the action of recycling a part of their norm. As these younger generations grow, recycling will remain a positive habit, and over time their actions will influence the generations that follow.
So there you have it - three ways that dedicated waste recycling and clear waste stream management labels can help your business. To find out more about the diverse selection of recycling waste litter bins that we have available, visit our website or contact us on 0333 30 55 118 or sales@roadware.co.uk.